Manchester United take on Brighton and Hove Albion in the FA Cup semi-final today as battle to secure the second trophy of the Erik ten Hag era.
The Seagulls are on a fantastic run of form, having gone unbeaten in their last nine matches winning seven times and drawing twice. United, meanwhile, are reeling from their exit from the Europa League at the hands of bogey team Sevilla.
Nevertheless, Erik ten Hag has demonstrated a knack for forcing a response from his players, with Man United bouncing back from all of their away defeats this season with a win in the following game thus far.
And with Brighton's gameplan, while effective, a fairly predictable one, there is no doubt that the Dutchman will have his side well prepared for the unique threats De Zerbi's team will impose.
Chief among those threats will be their 'artificial transitions' as so called by the Italian. These are moves that often start deep in their defence – usually with the keeper and commonly from goal kicks – that look to bait the opposition press and play quickly into the space afforded to them.
This is by no means a De Zerbi-specific concept and is part of the entire reason teams play out from the back in the first place. What is notable is the regularity with which Brighton achieve such situations and the manner in which they achieve them.
Brighton typically build up with their central defenders offering short, angled passing options to Jason Steele (or Robert Sanchez, as will likely be the case at Wembley given Steele's recent injury), with one of their two midfielders offers a more central option. The other midfielder will often hang nearby, with The Seagulls' double pivot typically keeping very close to one another.
De Zerbi's fullbacks also start these sequences in fairly deep positions, effectively giving Brighton seven participants in their initial build-up phase. That gives them numerical superiority against teams trying to press against them in pretty much every situation. In rare cases where none of those players are free, one of Brighton's central attacking players – at times even both – with also drop to provide support.
The two players who will never drop in during this phase are the wingers. Karou Mitoma, in particular, has taken the Premier League by storm this season with his electric pace and dribbling ability, but it is incredible just how often Brighton have been able to engineer one-on-one opportunities for the Japan star.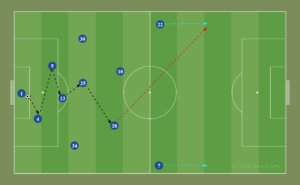 This above image highlights the 'S Sequence' build-up pattern De Zerbi typically looks to employ, building incisively through central areas by using short passes to work the ball quickly though the opposition press. With Brighton's wingers always maintaining a high and wide position, they are the natural recipients of quick switches and diagonals into space once the opposition press has been baited.
When Brighton hold onto the ball deep in their own half – particularly in the width of their own area and so close to their own goal – it is often enough to ensure that their opposition go charging in at them. When it isn't, Brighton are more than happy to wait, with defenders often placing their studs on the ball to further entice the press while taking their time to assess the available options.
What will be key to Manchester United's game today is avoiding getting lured into Brighton's artificial transition traps. Maintaining a good defensive shape against a side happy to wait for gaps to appear can be frustrating, but it will be a test of concentration and patience that Ten Hag must ensure his players pass.
---
Follow The Peoples Person on Twitter or Instagram for all the latest news as it happens and to join in the conversation.
---